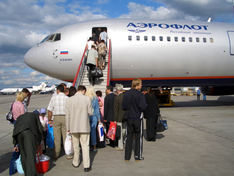 Aeroflot
Aeroflot entertains passengers with high technologies
(Airline news)
Russia's leading air carrier, Aeroflot, has developed and successfully implemented special entertainment program for its passengers. Now, Aeroflot customers will be able to use more than 200 types of entertainment from movies and news to popular games and audio books.

New entertainment program will be available to all class Airbus A-330 Aeroflot passengers. Aircrafts of this type were equipped with special entertainment system Panasonic eX2, which is offered to the passengers of such world's largest air carriers as Lufthansa, Hawaiian Airlines, Air Austral and many others.

A unique innovation from Panasonic is a high quality portable entertainment center, offering exceptional comfort and convenience for the passengers. Panasonic eX2 system is equipped with touch screen monitor with availability of viewing hundreds of videos and video clips; USB player for MP3 music files, viewing pictures and PDF documents; connecting your iPod with its simultaneous charging; SkyOffice system for creating and editing documents compatible with Excel, Word and PowerPoint; Voyager Moving Map program allowing to view the progress of the flight on a variety of interactive maps; interactive games not only 2D, but the newest 3D format; opportunity to make shopping on the board of the aircraft; Inflight communicator program, which allows send sms and e-mails directly from the aircraft ; Seat Chat system providing the possibility of communication with your friends on the board; Live Text News and Magazine Rack systems giving access to the latest news; as well as video calls, Internet and many other.

According to the Aeroflot's general director Vitaly Saveliev, new program on the board the Aeroflot aircrafts will enable passengers not only to make a fast and comfortable flight to any of 169 countries, but also to transform traditionally dull hours of flight into a holiday full of modern and diverse entertainment.
Alesia Belaya
Date: 26/04/2011
Comments
No comments

News
06/08/2012
Holidays in the Czech Republic: glass festival in Hradec Kralove
For the sixth time Hradec Králové, which is located in Eastern Bohemia, invites connoisseurs of glassblowing and ceramics. Here on the beautiful Tyla waterfront will be held the traditional festival of glass and ceramics (Nabrezi keramiky a skla 2012).

06/08/2012
WOODSTOCK rock festival will be held in Ukraine
One of largest European rock festivals, WOODSTOSK, for the first time will be held in Ukraine in the Vinnytsa region on the Kalinovsky airfield from 28 to 30 of August.

15/07/2012
Holidays in Bulgaria: free excursions in Plovdiv
Free tours in Plovdiv will be organized in English, so for many Russian-speaking tourists this proposal is free of charge only at first glance. Because they will have to pay for the English courses in order to understand the guide.


RSS
Login
Newsletter
<![if (IE 6)]> <![endif]>