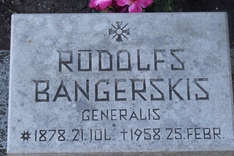 Fraternal Cemetery in Riga. The tombstone
Latvia is booming of cemetery tourism
(News from Latvia)
In the capital of Latvia, Riga, tourists are interested in the original tours to famous cemeteries.

Cemetery tourism isn't new in Europe. North London is the magnificent of the Victorian era burial, Highgate Cemetery, where buried such world-famous personalities as a science fiction writer Douglas Adams, a physicist Michael Faraday, a philosopher, sociologist and economist Karl Marx, and a scandalous KGB officer and FSB Alexander Litvinenko. Paris cemetery of Pere Leshez, where are the graves of famous writers and playwrights such as Jean de La Fontaine, Honore de Balzac, Oscar Wilde, Marcel Proust, such music icons like Frédéric Chopin, Maria Kalos, Edith Piaf and Jimmy Morrison, famous artists like Dominique Ingres and Camille Pissarro, annually visit thousands of tourists from all over the world.

Lately a great interest to cemeteries of Latvia began to show not only tourists but also guides and Latvian historians claiming that the campaign for cemeteries and graves of famous people is only informative and helps to learn the history and understand the characteristics of Latvian culture.

Now in Riga there are number of cemeteries that may constitute great interest of tourists who wish to get acquainted with the graves of the Latvian celebrities.
Pokrovskoye or great cemetery (Pokrova kapi, Lielie kapi) is one of the oldest cemeteries in the Latvian capital. Here are the graves of the philosopher, physicist, chemist and Nobel Prize winner in Chemistry in 1909 Friedrich Wilhelm Ostwald, the poetess and political scientist Olga Zakharovna Schmidt (her nickname Olga Dolmatova), opera singer, soloist of the Mariinsky Theatre in St. Petersburg and the owner's of unique soprano Marianne Cherkassy, visionary Eyzhena Fink, the first wife of Russian literature classic of Alexey Tolstoy Julia Vasilievna Rozhansky-Smolenkovoy, theater and movie actress Vija Fritsevny Artmane and the outstanding opera singer, a unique lyric-dramatic tenor Dmitry Alekseevich Smirnov.

Riga Fraternal or Military Cemetery is the largest burial in Latvia. Here is a magnificent ensemble dedicated to the fallen soldiers, as well as the famous monument "Mother Latvia." Here are the graves of the sculptor and the architect who created the project, A. Zale and K. Birzenieksa.

On the possessing of a very special atmosphere, Forest Cemetery (Rīgas Meža kapi), located in the Latvian capital, buried known Latvian politicians, military and public figures. Here is the tomb of the famous Soviet writer Valentin Pikul and the first President of the Republic of Latvia Janis Kristapovich Cakste.
Photo: Exxu
Date: 23/08/2011
Comments
Comments (1)
Comment: I think there's a mistake - the name of the first Latvian president is Jānis Čakste (Janis Cakste), I do not know and can't find any trace of him having any kind of second surname (I'm Latvian historian), so, Kristapovich is definitely mistakenly added as part of his surname. Otherwise - nice article!

News
06/08/2012
Holidays in the Czech Republic: glass festival in Hradec Kralove
For the sixth time Hradec Králové, which is located in Eastern Bohemia, invites connoisseurs of glassblowing and ceramics. Here on the beautiful Tyla waterfront will be held the traditional festival of glass and ceramics (Nabrezi keramiky a skla 2012).

06/08/2012
WOODSTOCK rock festival will be held in Ukraine
One of largest European rock festivals, WOODSTOSK, for the first time will be held in Ukraine in the Vinnytsa region on the Kalinovsky airfield from 28 to 30 of August.

15/07/2012
Holidays in Bulgaria: free excursions in Plovdiv
Free tours in Plovdiv will be organized in English, so for many Russian-speaking tourists this proposal is free of charge only at first glance. Because they will have to pay for the English courses in order to understand the guide.


RSS
Login
Newsletter
<![if (IE 6)]> <![endif]>